Sharon Hubbocks and Tim Heming combine to bring you their take on gypsy music from across Europe and beyond, from such exotic places as Ireland, France, Bulgaria, Greece, Russia, Romania, Hungary and Poland, plus some spiced-up tunes from the classical repertoire.
With violin, guitar, clarinet, viola, cornet, tenor banjo and melodeon, we can cover many traditional styles such as Klezmer, Bulgarian wedding music, Irish jigs and reels, French cafe music, plus gypsy-flavoured music from all over Eastern Europe.
Will travel anywhere…
---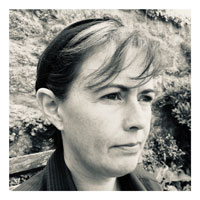 Sharon began violin lessons aged 8 with teacher Ralph Barker in her home town of Huddersfield. She quickly rose through the music scene, winning competitions and eventually leading the Kirklees Youth Orchestra, after which she studied with the renowned teacher Herbert Whone of Harrogate.
Sharon performed for several years under the name 'The Magic Bow', sometimes with classical guitarist John Kaye or pianist David Wood, playing at weddings, garden parties, festivals, fairs and concerts.
After moving to Devon in 2002 Sharon played with many orchestras and ensembles including The British Philharmonic Concert Orchestra, Taunton Sinfonietta and South West Sinfonietta. She is a regular player with Plymouth Philharmonic Choir Orchestra and South Devon Choir Orchestra and was also a member of steampunk outfit The Copperfield Ensemble. Sharon has undertaken session work including for television and is in demand as a freelance violinist/violist.
Her hobby is learning the cornet and playing with Brixham Town Band.
Tim began playing guitar in 1979 aged 16. He is mainly self-taught, as is traditional in the styles he has learnt, and has had some lessons in Greece and Bulgaria from local clarinet players.
He has been involved in many bands and projects over the years, on different instruments and in different roles including electric and double bass, electric and acoustic guitar and clarinet. Music styles include Rock, Blues, Klezmer, Bulgarian, East European, Musette, Gypsy Swing, Celtic, Bluegrass, Punk, Surf, Jive, Highlife, Tango, Latin, Old Time and Ska. Roles have included performance, recording, songwriting, sound engineering for recording and live performance, cabaret, music for theatre
Notable performances have included venues all over the UK, and in France, Germany, Holland, Australia, Belgium and Poland, including The Millennium Dome, Glastonbury Festival, The Royal Albert Hall, The 100 Club, London City Hall, The Green Gathering, Riverside Studios, and street performances everywhere.
Current musical hobbies include learning the finer points of Bulgarian Wedding Music ornamentation..
---